By Isaac Arnsdorf at Bloomberg
The value that commodity producers have lost in the past year almost equals India's entire economy.
Slumping prices for raw materials have wiped out $2.05 trillion from the shares of mining and oil companies since the middle of last year, data compiled by Bloomberg show. That compares with India's $2.07 trillion gross domestic product.
Prices plunged after years of overinvestment led to a supply glut at the same time that economic growth is slowing in China, the biggest consumer of commodities. The Bloomberg Commodity Index of 22 raw materials dropped Wednesday to its lowest since 2002, paced this year by declines in nickel, sugar, and crude oil.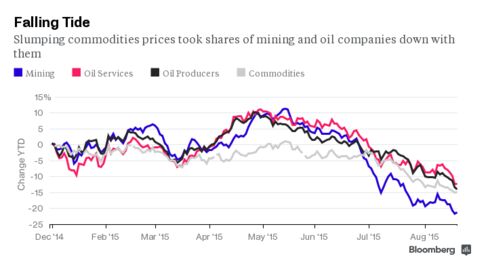 Oil companies have reduced spending by $180 billion this year while maintaining dividends, according to Rystad Energy, an Oslo-based energy consultant. As a prolonged decline lowers revenue, it may be harder for the industry to avoid slashing payments.
"The energy is the worst, the materials, industrials have been a disaster," says Donald Selkin, who helps manage about $3 billion as chief market strategist at National Securities Corp. in New York. "The problem is their ability to pay dividends. That's the question, as far as the valuation is concerned."
Read more ://investmentwatchblog.com/2-trillion-of-oil-and-mining-market-cap-wiped-out-by-commodities-plunge/