The Huffington Post | By Jillian Berman
Email

Posted: 11/18/2013 1:03 pm EST Updated: 11/18/2013 11:51 pm EST

One Ohio Walmart is asking employees to donate food for other workers who are struggling so much they can't afford to buy a Thanksgiving meal for their families.

The Canton, Ohio, store is holding a food drive for employees, according to a pair of photos circulated by OUR Walmart, an advocacy organization with ties to the United Food and Commercial Workers Union. Signs attached to bins located in employee backrooms ask workers to "donate food items here so associates in need can enjoy Thanksgiving dinner."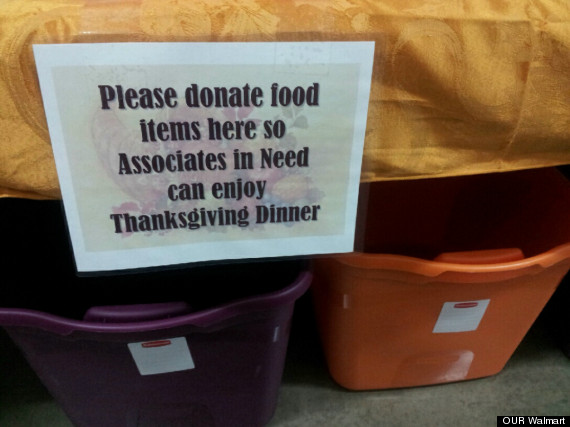 The food drive underscores the struggles that advocates for low-wage workers say Walmart employees face on a regular basis. Most Walmart store employees make less than $25,000 per year, according to a calculation by The Huffington Post's Dave Jamieson earlier this year. That relatively low wage can mean that Walmart workers end up relying on means other than pay -- like the food drive -- to get by.

One Walmart's low wages could cost taxpayers $900,000 per year because workers use social safety net programs like food stamps and government-subsidized health care to make ends meet, according to a May study from congressional Democrats.

A Walmart representative told the Cleveland Plain Dealer, which first reported the Canton food drive, that the donations are indicative of a supportive employee culture -- not proof of low wages. The event is specific to the Canton store, but Walmart workers elsewhere can donate money to their colleagues in need through a payroll deduction, according to the Cleveland Plain Dealer. Workers can get up to $1,500 from co-worker donations to address emergencies like homelessness, serious medical problems and major car repairs.