Agency requests rule change but civil liberties groups say 'extremely invasive' technique amounts to unconstitutional power grab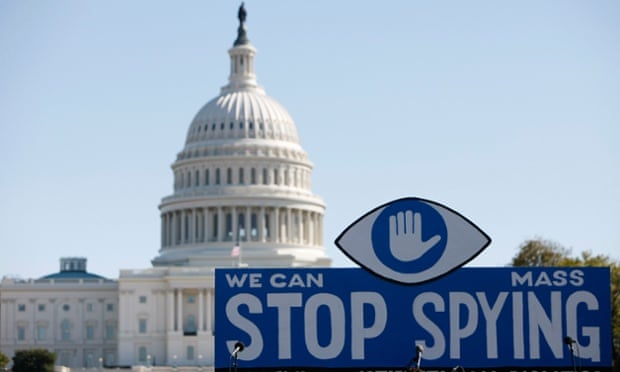 A protest against government surveillance in Washington DC. Civil liberties groups denounced the FBI's move as 'brazen and potentially dangerous'. Photograph: Xinhua /Landov/Barcroft Media
Ed Pilkington
in New York
Wednesday 29 October 2014 14.42 EDT
The
FBI
is attempting to persuade an obscure regulatory body in Washington to change its rules of engagement in order to seize significant new powers to hack into and carry out surveillance of computers throughout the US and around the world.
Civil liberties groups warn that the proposed rule change amounts to a power grab by the agency that would ride roughshod over strict limits to searches and seizures laid out under the fourth amendment of the US constitution, as well as violate first amendment privacy rights. They have protested that the FBI is seeking to transform its cyber capabilities with minimal public debate and with no congressional oversight.
The regulatory body
to which the Department of Justice has applied to make the rule change, the advisory committee on criminal rules, will meet for the first time on November 5 to discuss the issue. The panel will be addressed by a slew of technology experts and privacy advocates concerned about the possible ramifications were the proposals allowed to go into effect next year.
"This is a giant step forward for the FBI's operational capabilities, without any consideration of the policy implications. To be seeking these powers at a time of heightened international concern about US surveillance is an especially brazen and potentially dangerous move," said Ahmed Ghappour, an expert in computer law at University of California, Hastings college of the law, who will be addressing next week's hearing.