Withheld documents include emails between Holder and wife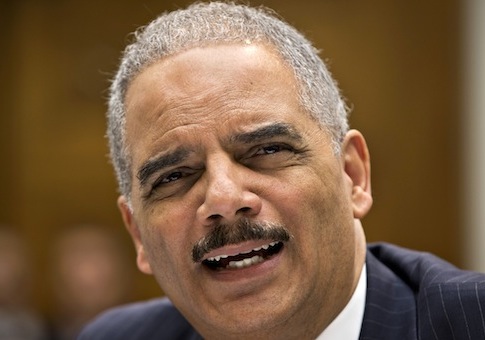 Eric Holder / AP

BY: CJ Ciaramella
October 23, 2014 3:49 pm

The Obama administration is claiming executive privilege over more than 15,000 documents related to Operation Fast and Furious, including correspondence between Attorney General Eric Holder and his wife, according to records received Wednesday night by the watchdog group Judicial Watch.

Last month, a federal judge ordered the Justice Department to release to Judicial Watch the list of documents, known as a "Vaughn index," that it is withholding from the public, calling its requests for further delays "unconvincing."

The 1,307-page Vaughn index lists 15,662 documents related to Operation Fast and Furious that the Obama administration is asserting executive privilege over—the first time that full list and description of the records has been released.

According to Judicial Watch, the withheld documents include communications between top officials at the Justice Department and the Bureau of Alcohol, Tobacco and Firearms (ATF), as well as with the United States Ambassador to Mexico.

The Obama administration is also asserting executive privilege over nearly 20 emails between Holder and his wife Sharon Malone.

"Obama's executive privilege claims over these records are a fraud and an abuse of his office," Judicial Watch president Tom Fitton said in a statement. "There is no precedent for President Obama's Nixonian assertion of executive privilege over these ordinary government agency records. Americans will be astonished that Obama asserted executive privilege over Eric Holder's emails to his wife about Fast and Furious."

Judicial Watch also says the Justice Department is asserting privilege over publicly available press clips, letters from Congress, and inter-agency communications that would normally be subject to the Freedom of Information Act.

"Few of the records seem to even implicate presidential decision-making and advice that might be subject to President Obama's broad and unprecedented executive privilege claim," Judicial Watch said in a press release.