Julie Bishop will not let the workers go to west Africa until treatment and evacuation plans are in place

Bridie Jabour and Australian Associated Press
theguardian.com, Friday 10 October 2014 23.09 EDT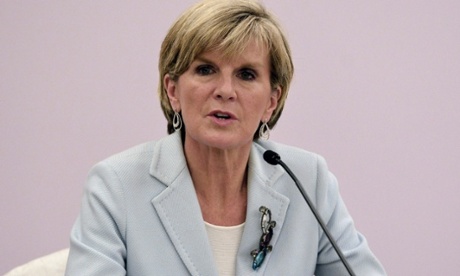 Julie Bishop says she is 'not putting at risk the lives of health workers'.


Photograph: Roslan Rahman/AFP/Getty Images

Australia will not send health workers to Ebola outbreak zones until their welfare can be guaranteed.

Despite talks with European nations, the UK and the US, Australia has been unable to shore up a treatment or evacuation plan for its personnel should they be sent to west Africa, the minister for foreign affairs, Julie Bishop, says.
"I do not have in place a guarantee that should an Australian health worker – sent there by the Australian government – contract Ebola, they would be able to be transported or treated in a hospital either in the region or in Europe," she told reporters in Launceston on Saturday.

"And until I have that in place we will not be sending Australian health workers."

The minister presumed Australian health workers travelling privately to the outbreak region would be covered by a credible plan provided by their affiliate organisation.

The Australian government has contributed $18m for equipment and supplies in west Africa since the Ebola outbreak.

Bishop's comments follow an Ebola scare in Queensland where Cairns nurse Sue Ellen Kovack, 57, returned from working in Sierra Leone, with symptoms including a fever.

Initial tests cleared Kovack of Ebola but she remains in isolation in hospital and will have a second round of tests on Sunday.

She was tested for the virus on Thursday after developing a low-grade fever upon her return to Australia after treating Ebola patients in Sierra Leone. She was held in isolation at Cairns hospital and her blood samples were flown to Brisbane for testing.