Team spreading awareness of deadly virus set upon by angry residents in remote village

Monica Mark, west Africa correspondent

The Guardian, Thursday 18 September 2014 18.35 EDT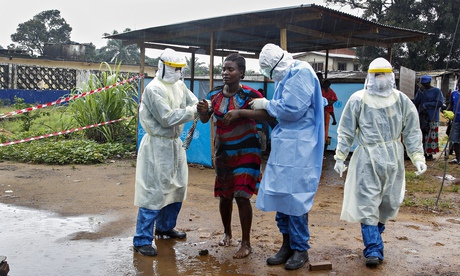 Liberian nurses in protection suits escort a suspected Ebola patient in Monrovia. More than 700 cases, almost a quarter of the total so far, emerged in the past week. Photograph: Ahmed Jallanzo/EPA

The prime minister of Guinea said that seven bodies had been found after a team of health workers went missing during a push to raise awareness of the outbreak of Ebola which started in the country nine months ago.

Witnesses said the team were set upon by angry residents in the remote village of Womey, where many remain in denial about the disease, or suspicious of foreign health workers. Several failed to return following the visit on Tuesday. Officials earlier said some – including three journalists and the director and two senior doctors of the main local hospital – were being held captive. Atempts to reach them stalled when angry residents destroyed bridges leading to the village.