August 26th, 2014
Wolf Richter
So now, there's another aspect of

Housing Bubble
2, this time in new single-family homes: dropping sales, swooning prices, and ballooning inventories. Sales of new single-family homes fell 2.4% in July, to a seasonally adjusted annual rate (SAAR) of 412,000, the worst in four months, and those four months had been nothing to brag about. While up 12.6% from a year ago, sales have been languishing, as the chart below shows, near the bottom of the range. By comparison, during the housing construction bubble, new single-family homes were selling at a seasonally adjusted annual rate of well over 1,000,000.
The inveterate optimists that economists have become were disappointed. They'd expected a rate of 430,000 sales. The median price dropped 3.9% from June and almost 6% from May, to $269,000, and was up only 2.9% from a year ago. But hey, at least year over year, it wasn't a downdraft. Not yet…. So, on a monthly basis, sales and prices are heading south. These numbers from the
Census Bureau
are volatile and subject to big revisions; hence, by a miracle, sales and prices might reverse course. But over the longer term, and after revisions, one trend is now becoming glaring: the supply of new homes on the market (green line, right scale) rose to 6 months, from 5.6 months in June. It was the highest – and for builders the worst – level since October 2011: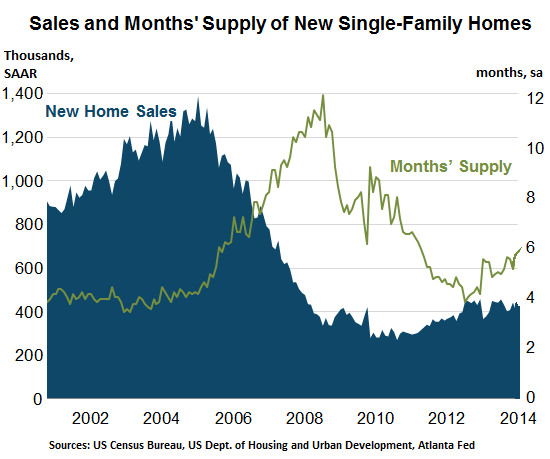 Rising supply of unsold homes is the bane of the industry. During the last housing bubble, inventory in terms of months' supply shot up: as sales declined, new homes were still being planned, built, finished, and put on the market.

Read more at http://investmentwatchblog.com/housing-bubble-2-0-ripens-drooping-sales-swooning-prices-ballooning-inventories/#7IIf7JzBHJLCGAep.99