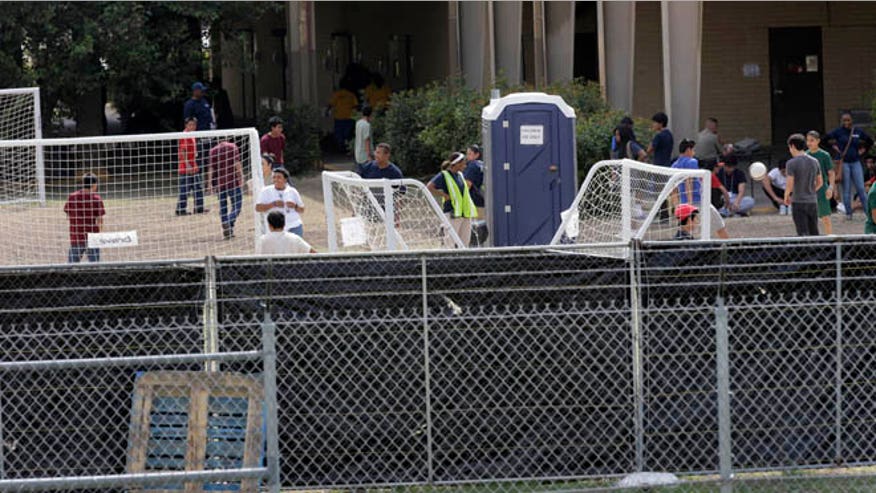 Texas officials appealed to the Obama administration on Thursday to secure the U.S.-Mexico border once and for all as waves of illegal immigrant children overwhelm the system, with one lawmaker saying U.S. military bases effectively have been transformed into camps to handle the influx.
"Our military bases are turning into refugee camps. I never thought I'd see this in the United States of America," House Homeland Security Committee Chairman Michael McCaul, R-Texas, said.
McCaul spoke at a field hearing he convened in McAllen, Texas, in the Rio Grande Valley which has seen the brunt of the migrant surge. Texas Gov. Rick Perry, who has deployed state resources in a bid to boost border security, and other state officials testified at the hearing.
"Secure this border, Mr. President," Perry urged in his opening remarks.
The hearing comes as the Obama administration, and local communities, grapple with the influx of illegal immigrant children and families, mostly from Central America.
Several top-ranking lawmakers have visited the border in recent days, and President Obama earlier this week requested additional authority to speed up deportations in some cases. He also announced he's shifting enforcement resources from the interior to the affected areas.
But in the meantime, the federal government is scrambling to house illegal immigrant minors awaiting immigration proceedings. They are spread out among a number of facilities, including military bases like Ft. Sill in Oklahoma and Lackland Air Force Base in Texas.
Read more http://www.foxnews.com/politics/2014/07/03/texas-rep-says-military-bases-turning-into-refugee-camps-appeals-for-help-on/