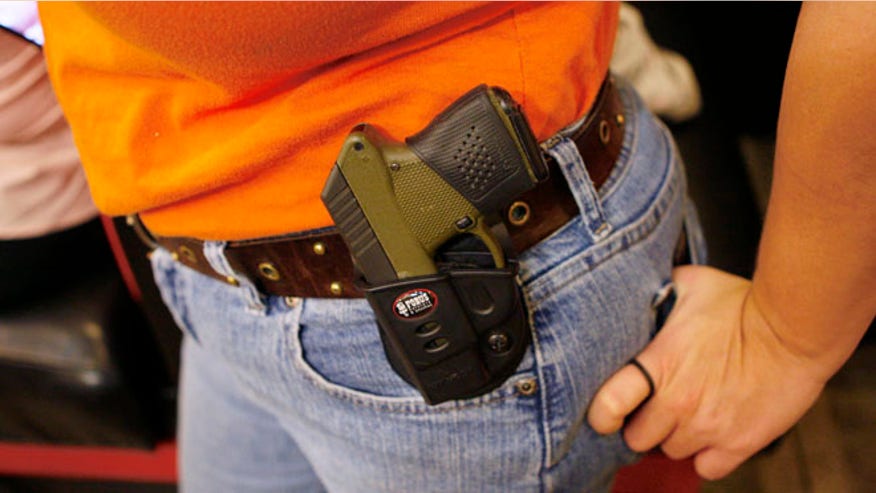 A federal judge in the District of Columbia on Saturday overturned the city's total ban on residents being allowing to carry firearms outside their home in a landmark decision for gun-rights activists.
Judge Frederick Scullin Jr. wrote in his ruling in Palmer v. District of Columbia that the right to bear arms extends outside the home, therefore gun-control laws in the nation's capital are "unconstitutional."
"We won," Alan Gura, the lead attorney for the Second Amendment Foundation, told Fox News in a phone interview. "I'm very pleased with the decision that the city can't forbid the exercise of a fundamental constitutional right."
Gura said he expects the District to appeal this decision but added, "We'll be happy to keep the fight going."
The decision leaves no gray area in gun-carrying rights.
Judge Sculin extensively referenced the Supreme Court decisions in District of Columbia v. Heller (2008) and McDonald v. Chicago (2010) to concluding "there is no longer any basis on which this court can conclude that the District of Columbia's total ban on the public carrying of ready-to-use handguns outside the home is constitutional under any level of scrutiny."
The court ordered the city to now allow residents from the District and other states to carry weapon within its boundaries.
Judge Scullin wrote that the court "enjoins Defendants from enforcing the home limitations of [D.C. firearms laws] unless and until such time as the District of Columbia adopts a licensing mechanism consistent with constitutional standards enabling people to exercise their Second Amendment right to bear arms."
The defendants are the city government and Police Chief Cathy L. Lanier