Economics professor Dave Brat wins in shock result in Virginia's 7th congressional district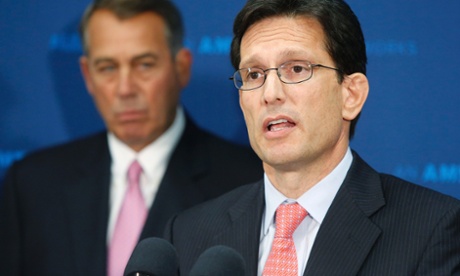 The majority leader in the US House of Representatives, Eric Cantor, was defeated by a Tea Party challenger on Tuesday night in a shock primary election result that may turn out to be the biggset upset of the year in American politics.
Cantor, the second most senior Republican in the House, who had been tipped to take over from the speaker, John Boehner, lost the opportunity to stand for re-election in his Virginia seat in a surprise defeat by the Tea Party candidate David Brat.
With more than three-quarters of precincts reporting by shortly after 8pm, the Associated Press predicted that Brat would comfortably take the seat, almost certainly forcing Cantor out of his position as a top Washington powerbroker for the party.
It is possible, though unlikely, that Cantor could run as a
write-in candidate
for the relatively safe Republican House seat in Virginia's 8th district, which neighbours Richmond.
But his defeat by Brat, a relatively unknown economics professor, will send shockwaves through a party leadership that thought it had survived the 2014 primary election season with relatively limited damage from the Tea Party.
Read more http://www.theguardian.com/world/2014/jun/11/us-house-majority-leader-eric-cantor-loses-primary-virginia