Feb 29th, 2012 | By
Keelan Balderson
| Category:
Featured Articles
,
War and Terrorism
|
Print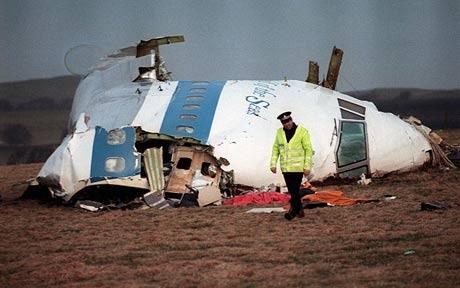 New documents shed further doubt over the evidence used to convict a Libyan man for the bombing of
Pan Am Flight 103
over
Lockerbie
Scotland, on December 21, 1988.
Abdelbaset Ali Mohmed al-Megrahi
, who was convicted in 2001 and released on bizarre
"compassionate grounds"
in 2009 amidst rumors of oil
deals
, was the only person to serve prison time for the crime.
This new evidence and a review of the case makes it almost certain he was innocent.
Among the wreckage of the plane, which was carrying mainly US and UK passengers on route to JFK International, were small fragments of a circuit-board alleged to be part of the bomb's timer, which were found in a wooded area many miles from the immediate scene. The prosecution, using supposed CIA and FBI experts, asserted that the fragment examined was an exact match of a series of Timer's sold to the Libyan Government. However newly released documents have revealed that the fragment was actually quite different. Instead of the tin and lead compound found on the Libyan circuit-boards, the fragment contained
"pure tin"
. It was
not
an exact match.
The evidence was discovered by a British Ministry of Defence scientist, but was never passed on to Megrahi's lawyers, implying that the Libyan had been deliberately set-up.
In response to the new findings an MOD spokesperson told
Al Jazeera
that the board was likely modified before use, and this explains the difference. However this was never explored in the trial or backed up by any independent analysis.
__________________________________
Evidence of a set-up: