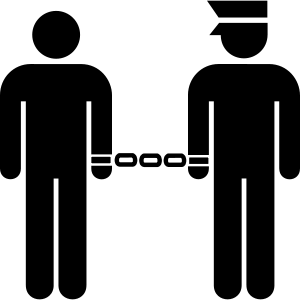 With each passing year, the difference between America's prisons and America's public schools becomes smaller and smaller. As you read the rest of this article, you will be absolutely amazed at some of the crazy things that school children in America are being arrested for. When I was growing up, I don't remember a single police officer ever coming to my school. Discipline was always handled by the teachers and by the principals. But today, there are schools all over the country that have police officers permanently stationed in the halls. Many other schools will call out police officers at the drop of a hat. In the classrooms of America today, if you burp in class, if you spray yourself with perfume or if you doodle on your desk, there is a chance that you will be arrested by the police and hauled out of your school in handcuffs. Unfortunately, we live in a country where paranoia has become standard operating procedure. The American people have become convinced that the only way that we can all be "safe" is for this country to be run like a militarized totalitarian police state. So our public schools are run like prisons and our public school students are treated like prisoners. The United States has
the highest incarceration rate in the world
by far, and our schools are preparing the next generation to either "do time" in the prison system or to live as good little slaves in the Big Brother prison grid that is being constructed all around us. But what our schools are not doing is giving these children the critical thinking skills that they need to live as free citizens in a nation that used to be "the land of the free and the home of the brave".
Of course very few people would deny that the character of American schoolchildren has changed dramatically over the decades. Back in the 1950s, some of the biggest school discipline problems were gum chewing and hair pulling. Today, kids bring knives, guns and drugs with them to school. Gang activity is rampant in many of our schools and in some schools kids are even
having sex in the school bathrooms
.
So there is definitely a discipline problem in our schools.
But what is going on in many areas of the country is absolutely ridiculous. For example, in 2010 alone police down in Texas issued an astounding
300,000
tickets to school children.
Yes, if a kid pulls a knife on someone the police should get involved, but teachers and administrators should be able to use some common sense and handle the vast majority of discipline problems that happen themselves.
What you are about to read is absolutely going to amaze you. The following are 19 really crazy things that school children are being arrested for in America....
#1
At one public school down in Texas, a 12-year-old girl named Sarah Bustamantes was recently arrested
for spraying herself with perf
Read more here