Wednesday, May 22, 2013
Posted by

Joe Hill
at 10:22 AM
No comments:


Links to this post
Tuesday, May 21, 2013
May 21st, 2013
By
Michael
What is going to happen when the greatest economic bubble in the history of the world pops? The
mainstream media
never talks about that. They are much too busy covering the latest dogfights in Washington and what Justin Bieber has been up to. And most Americans seem to think that if the Dow keeps setting new all-time highs that everything must be okay. Sadly, that is not the case at all. Right now, the U.S. economy is exhibiting all of the classic symptoms of a bubble economy. You can see this when you step back and take a longer-term view of things. Over the past decade, we have added
more than 10 trillion dollars
to the
national debt
. But most Americans have shown very little concern as the balance on our national credit card has soared from 6 trillion dollars to nearly 17 trillion dollars. Meanwhile, Wall Street has been transformed into the biggest casino on the planet, and much of the new money that the Federal Reserve has been recklessly printing up has gone into stocks. But the Dow does not keep setting new records because the underlying economic fundamentals are good. Rather, the reckless euphoria that we are seeing in the financial markets right now reminds me very much of 1929. Margin debt is absolutely soaring, and every time that happens
a crash rapidly follows
. But this time when a crash happens it could very well be unlike anything that we have ever seen before. The top 25 U.S. banks have
more than 212 trillion dollars
of exposure to derivatives combined, and when that house of cards comes crashing down there is no way that anyone will be able to prop it back up. After all, U.S. GDP for an entire year is only a bit more than 15 trillion dollars.
But most Americans are only focused on the short-term because the mainstream media is only focused on the short-term. Things are good this week and things were good last week, so there is nothing to worry about, right?
Unfortunately, economic reality is not going to change even if all of us try to ignore it. Those that are willing to take an honest look at what is coming down the road are very troubled. For example,
Bill Gross of PIMCO
says that his firm sees "bubbles everywhere"…
We see bubbles everywhere, and that is not to be dramatic and not to suggest they will pop immediately. I just suggested in the bond market with a bubble in treasuries and bubble in narrow credit spreads and high-yield

prices

, that perhaps there is a significant distortion there. Having said that, it suggests that as long as the FED and Bank of Japan and other Central Banks keep writing checks and do not withdraw, then the bubble can be supported as in blowing bubbles. They are blowing bubbles. When that stops there will be repercussions.
Read more http://investmentwatchblog.com/americas-bubble-economy-is-going-to-become-an-economic-black-hole/
Posted by

Joe Hill
at 11:27 PM
No comments:


Links to this post
Monday, May 20, 2013
President met with anti-Tea Party IRS union chief the day before agency targeted Tea Party.
Jeffrey Lord
spectator.org
May 20, 2013
"For me, it's about collaboration." — National Treasury Employees Union President Colleen Kelley on the relationship between the anti-Tea Party IRS union and the Obama White House
Is President Obama directly implicated in the IRS scandal?
Is the White House Visitors Log the trail to the smoking gun?
The stunning questions are raised by the following set of new facts.
March 31, 2010.
According to the White House Visitors Log, provided
here
in searchable form by
U.S. News and World Report,
the president of the anti-Tea Party National Treasury Employees Union, Colleen Kelley, visited the White House at 12:30pm that Wednesday noon time of March 31st.
The White House lists the IRS union leader's visit this way:
Kelley, Colleen Potus 03/31/2010 12:30
In White House language, "POTUS" stands for "President of the United States."
The very next day after her White House meeting with the President, according to the Treasury Department's Inspector General's Report, IRS employees — the same employees who belong to the NTEU — set to work in earnest targeting the Tea Party and conservative groups around America. The IG report wrote it up this way:
Read more http://www.infowars.com/obama-and-the-irs-the-smoking-gun/
Posted by

Joe Hill
at 11:51 PM
No comments:


Links to this post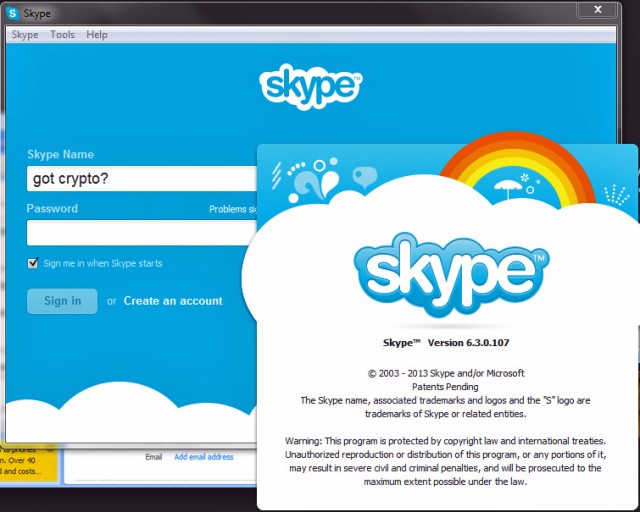 Ars catches Microsoft accessing links we sent in our test messages.
If you think the private messages you send over Skype are protected by end-to-end encryption, think again. The Microsoft-owned service regularly scans message contents for signs of fraud, and company managers may log the results indefinitely, Ars has confirmed. And this can only happen if Microsoft can convert the messages into human-readable form at will.
With the help of independent privacy and security researcher
Ashkan Soltani
, Ars used Skype to send four Web links that were created solely for purposes of this article. Two of them were never clicked on, but the other two—one beginning in HTTP link and the other HTTPS—were accessed by a machine at 65.52.100.214, an
IP address belonging to Microsoft
. For those interested in the technical details, the log line looked like this:
0 -'
The results—which were similar but not identical to those
reported last week
by The H Security—prove conclusively that Microsoft not only has ability to peer at the plaintext sent from one Skype user to another, but that the company regularly flexes that monitoring muscle.
In one sense, this shouldn't come as news. Skype's privacy policy clearly states that it
may
(emphasis added)
use automated scanning within Instant Messages and SMS
to identify spam and links to sites engaged in phishing and other forms of fraud. And as Ars reported last year, since Skype was acquired by Microsoft, the network running the service has been
drastically overhauled from its design of the preceding decade
. Gone are the peer-to-peer "supernodes" made up of users with sufficient amounts of bandwidth and processing power; in their place are some 10,000 Linux machines hosted by Microsoft. In short, the decentralization that had been one of Skype's hallmarks was replaced with a much more centralized network. It stands to reason that messages traveling over centralized networks may be easier to monitor.
Read more http://arstechnica.com/security/2013/05/think-your-skype-messages-get-end-to-end-encryption-think-again/
Posted by

Joe Hill
at 11:45 PM
No comments:


Links to this post
May 20th, 2013
by
Michael
Have you ever wondered who controls the mainstream media? In America today, we are more "connected" than ever. The average American watches 153 hours of television a month, and we also spend countless hours watching movies, playing video games, listening to music, reading books and surfing the Internet. If someone could control the production of all of that media, that would make them immensely powerful. They would literally be in a position to tell people what to think. Well, what if I told you that there are just six enormous media conglomerates that combine to produce about 90 percent of all the media that Americans consume. Would that alarm you? It should alarm you. The truth is that our attitudes, opinions and beliefs are greatly shaped by what we allow into our minds. After all, they don't call it "programming" for no reason. Even those of us that realize that we are connected to "the matrix" probably greatly underestimate the tremendous influence that the media has over us. We live at a time when it is absolutely imperative to think for ourselves, but most Americans are being absolutely overwhelmed with information and seem more than content to let others do their thinking for them. Sadly, this is greatly contributing to the downfall of our society.
And of course the mainstream media desperately does not want you to look at "the man behind the curtain". They just want you to stay plugged into the "programming" that they are feeding you without asking any questions.
Fortunately, a growing minority of Americans are waking up and are starting to reject the mainstream media. An increasing number of people are beginning to recognize that the mainstream media is the mouthpiece of the establishment and that it is promoting the agenda of the establishment.
Read more http://investmentwatchblog.com/7-things-about-the-mainstream-media-that-they-do-not-want-you-to-know/
Posted by

Joe Hill
at 11:40 PM
No comments:


Links to this post
Sunday, 19 May 2013 11:36 PM
By Newsmax Wires
Despite the 6.5% stock market rally over the last three months, a handful of billionaires are quietly dumping their American stocks . . . and fast.
Warren Buffett, who has been a cheerleader for U.S. stocks for quite some time, is dumping shares at an alarming rate. He recently complained of "disappointing performance" in dyed-in-the-wool American companies like Johnson & Johnson, Procter & Gamble, and Kraft Foods.
In the latest filing for Buffett's holding company Berkshire Hathaway, Buffett has been drastically reducing his exposure to stocks that depend on consumer purchasing habits. Berkshire sold roughly 19 million shares of Johnson & Johnson, and reduced his overall stake in "consumer product stocks" by 21%. Berkshire Hathaway also sold its entire stake in California-based computer parts supplier Intel.
With 70% of the U.S. economy dependent on consumer spending, Buffett's apparent lack of faith in these companies' future prospects is worrisome.
Unfortunately Buffett isn't alone.
Fellow billionaire John Paulson, who made a fortune betting on the subprime mortgage meltdown, is clearing out of U.S. stocks too. During the second quarter of the year, Paulson's hedge fund, Paulson & Co., dumped 14 million shares of JPMorgan Chase. The fund also dumped its entire position in discount retailer Family Dollar and consumer-goods maker Sara Lee.
Finally, billionaire George Soros recently sold nearly all of his bank stocks, including shares of JPMorgan Chase, Citigroup, and Goldman Sachs. Between the three banks, Soros sold more than a million shares.
Read Latest Breaking News from Newsmax.com
http://www.moneynews.com/MKTNews/billionaires-dump-economist-stock/2012/08/29/id/450265?PROMO_CODE=110D8-1&utm_source=taboola#ixzz2TtXbBAmM
Posted by

Joe Hill
at 11:38 PM
No comments:


Links to this post
May 20th, 2013
Mac Slavo
May 20th, 2013
SHTFplan.com
The Posse Comitatus Act of 1878 was originally established to protect American citizens from the federal use of military troops to enforce and execute the laws of the land unless expressly authorized by the Constitution or Congress. Since then, for over a century, this task has fallen upon local and federal law enforcement. But with the War on Terror taking center stage in the United States for the last decade, elements within the government have been working tirelessly to expand the mission of the US military on the domestic front.
First, they passed the Patriot Act, which gave the government sweeping new powers to categorize any individual as a terrorist, whether they are operating on foreign lands or here at home. In 2011, as America brought in the New Year, they signed into law the National Defense Authorization Act, which made it possible for American citizens who were categorized as domestic terrorists under the Patriot Act to be detained and imprisoned indefinitely without charge or trial.
Finally, last week we learned that, as President Obama came under fire for the many scandals rocking his administration, the government was quietly moving to give the Department of Defense unprecedented authority on U.S. soil, effectively nullifying Posse Comitatus.
Eric Blair of
Activist Post writes
:
Read more http://investmentwatchblog.com/its-not-a-conspiracy-theory-it-is-happening-right-now/
Posted by

Joe Hill
at 11:35 PM
No comments:


Links to this post
Prepper Podcast – by James Smith
"Honor was never taking the easy way when it was also the wrong one. Never telling a falsehood unless

the truth

was painful and unnecessary, or a lie was necessary to save others. Never manipulating the truth to serve only yourself.

Protecting

the weak and helpless; standing fast even when fear made you weak. Keeping your word."
― Mercedes Lackey, Exile's Honor
Sometimes in this crazy world we get lost in the noise and bustle of everyday life. We hear stories that cause us fear and concern. We know a friend-of-a-friend that has a second cousin that…
But stories are just a part of a person's life. Each of us have a story. A snippet of our life that we hold onto and pass along. Many stories are cute and endearing, and then there are those at the other end of the spectrum.
These stories are of fear and pain.
These are stories of abuse by police.
These stories are becoming more frequent. Entire website networks have sprung up to alert readers and web searches of the abuse caused by police officers.
Photographing the crimes by police, although protected by Supreme Courts in many states, still results in harassment by law enforcement. When
the general
public states their concern about
surveillance cameras
all over their town, the police may respond with "If you're not doing anything wrong, what's wrong with being recorded". The hypocrisy sits in their mouths like venom when they are recorded abusing a pedestrian or a driver because, "They gave me attitude".
Read more http://www.fromthetrenchesworldreport.com/why-men-do-evil-while-wearing-a-badge/44803
Posted by

Joe Hill
at 11:33 PM
No comments:


Links to this post
Russia supplies Syria with sophisticated Yakhonts missile-system, making naval blockade largely impossible… Israel tells Russia that sending missiles to Syria will start a war
May 17th, 2013
Russia
has sent advanced antiship cruise missiles to
Syria
, a move that illustrates the depth of its support for the Syrian government led by President
Bashar al-Assad
, American officials said Thursday.
Russia has previously provided a version of the missiles, called Yakhonts, to Syria. But those delivered recently are outfitted with an advanced radar that makes them more effective, according to American officials who are familiar with classified
intelligence
reports and would only discuss the shipment on the basis of anonymity.
Unlike Scud and other longer-range surface-to-surface missiles that the Assad government has used against opposition forces, the Yakhont antiship missile system provides the Syrian military a formidable weapon to counter any effort by international forces to reinforce Syrian opposition fighters by imposing a naval embargo, establishing a no-fly zone or carrying out limited airstrikes.
Posted by

Joe Hill
at 11:31 PM
No comments:


Links to this post